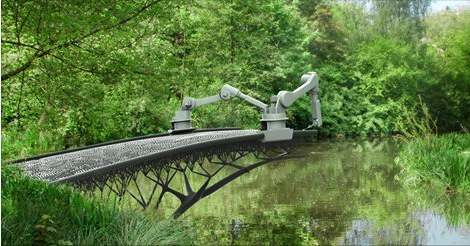 Amsterdam's 3D-Printed Steel Bridge To Be 'Drawn' Mid-Air By Robots
Amsterdam is getting its own 3D-printed steel bridge that will be partly suspended in mid-air, once again proving that nothing is off limits in the world of 3D-printing.
Behind the bold attempt is MX3D, an R&D startup that aim to 'print' the complicated and 'intricate' structure over one of the city's canals using robots to 'draw' the bridge into being.
The attempt is particularly impressive as the steel spewing bots will print the bridge on location, which is yet to be disclosed.
#
3D-printing
#
bridge
#
Amsterdam
#
Netherlands